The 5th Annual OBOV Village Soccer Tournament, July/August, 2018, Haiti: For the 5th year in a row, OBOV's Tounwa Vakans (Summer Tournament) in the rural villages outside of Croix Des Bouquets was a great success and generated enormous enthusiasm from the 8 particiating villages. Check out the Tournament Finals Action on our Facebook page.

The 4th Annual OBOV Village Soccer Tournament, June/July, 2017, Haiti: 8 different villages competed in this year's summer tournament. Approximately 1,000 fans were in attendance to see the Women's Division finalists Coupon (champions) versus neighboring rival Guedon. The men's final featured victors Roche Blanche in a repeat match from 2 years ago against Coupon. Click the links below for more tournament photos on Facebook! Photo Album Men's Finals Photo Album Women's Finals
3rd Annual OBOV Village Soccer Tournament, August, 2016, Haiti: 8 different villages competed in this year's summer tournament with the highlight being the addition of the Women's Division, lead by victorious Roche Blanche versus neighboring rival Pierroux. Check out more tournament photos on Facebook Photo Album
2nd Annual OBOV Village Soccer Tournament, August, 2015, Haiti: 8 different villages competed in this year's event with Roche Blanche victorious in the finals versus neighboring rival Digneron. Like 2014's finale, the game had to be settled in penalty kicks. Check out more tournament photos on Facebook Photo Album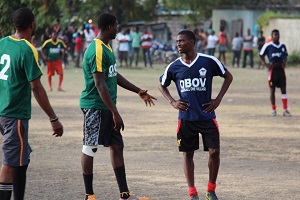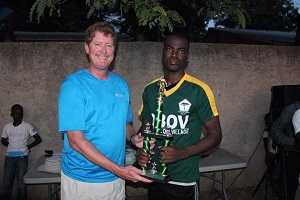 Soccer Update: Raranya, Tanzania, 2014. Soccer is the language spoken around the world and is a strong building block in communities from Tampa Bay to Haiti to Tanzania. Pictured below is Jeff Gold and some of the local boys during a recent trip to the Village of Raranya, Tanzania.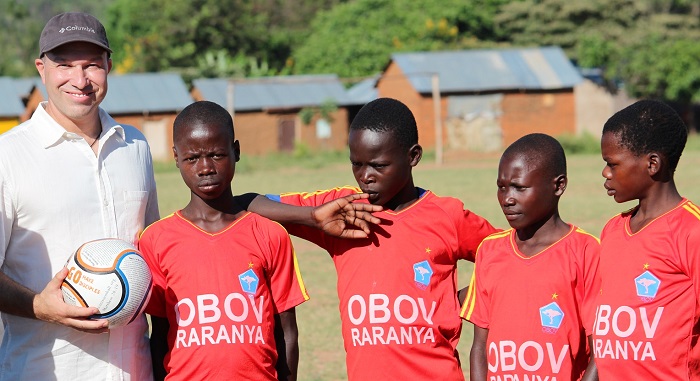 Soccer Update: Haiti, 2014. One Ball One Village hosted its innaugural soccer tournament in the rural area east of Croix des Bouquets, Haiti in the summer of 2014. Four neighboring villages competed in a weekend competition with the Village of Coupon (pictured below) emerging victorious.
Special Tournament Video: There's nothing quite like the excitement of penalty kicks to decide a soccer match, especially "Haiti-style". Check out this video of the final PK in the semi-final match between the Villages of Pierroux and Gaman. Pierroux was victorious. Click here for the video http://youtu.be/u5nvzjKpjEk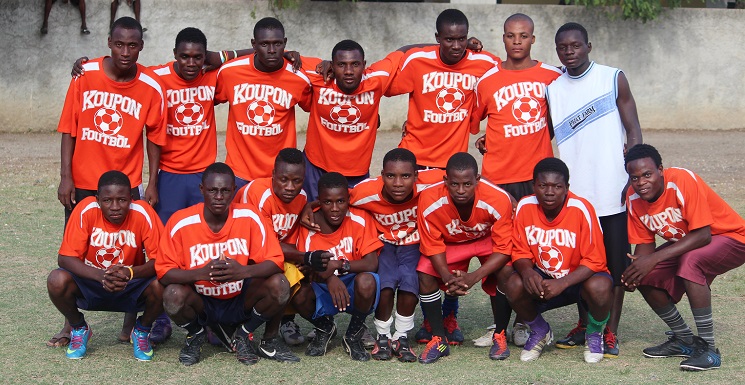 Pierroux, Haiti: November 2013. In addition to the community water station, OBOV, along with help from our friends at Tampa Bay United Soccer Club, sponsored a new youth soccer team in the village. A rousing match was played vs rival village Coupon. For more information, click this link: Photo Album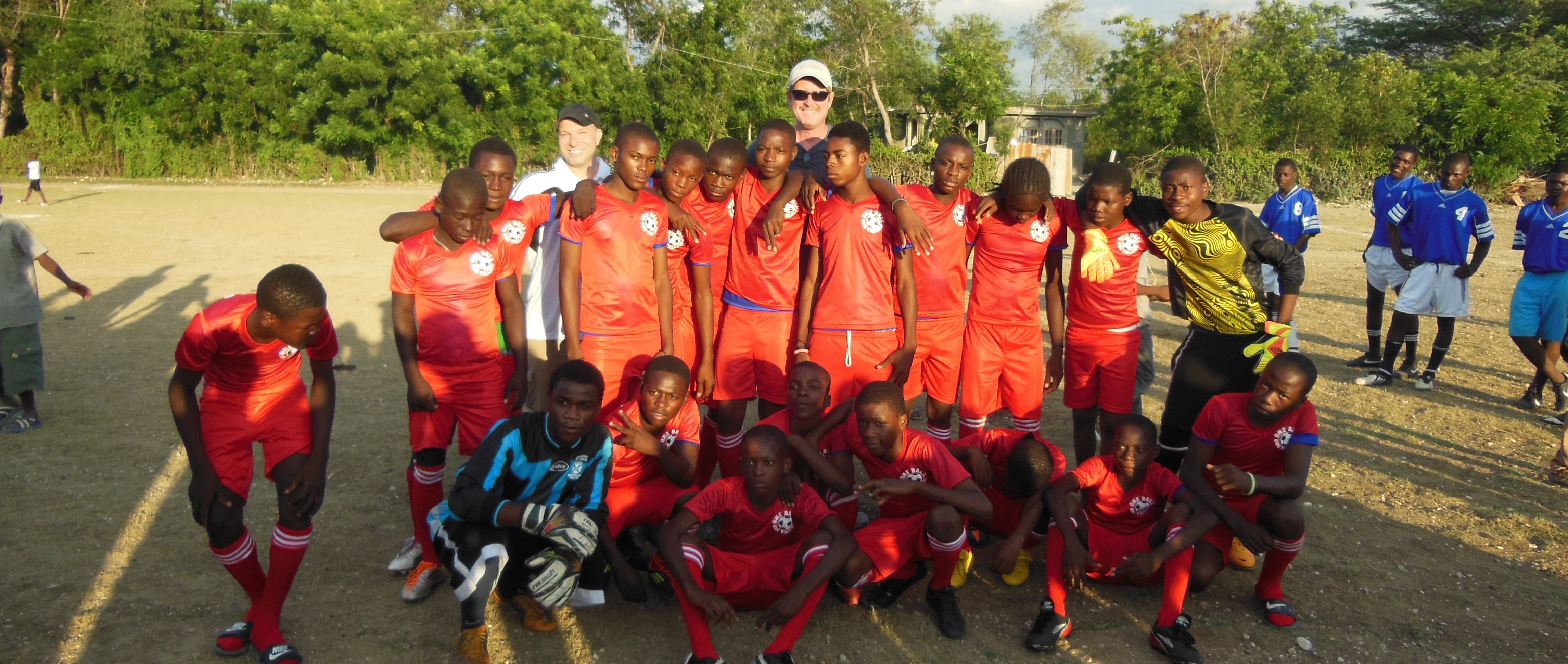 Soccer Ball Story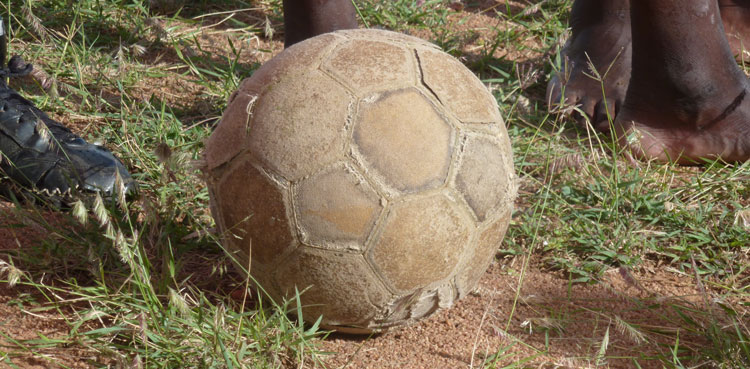 In 2009 Frank Prince, Jeff Gold and Rob Rose traveled to Africa. They were there to take part in an educational program, but, knowing how popular soccer is, decided to take a bag of balls to the training seminar and give one to each participant at the end of the event.
The adults, all professionals and highly educated, were thrilled when they got their new soccer ball at the end of week. Like children at Christmas, they were all smiles and laughter. Once we had finished handing out the soccer balls, we had some extra left over.
Our translator for the week was a wonderful man named Timothy Wambura. Timothy is a gentle giant who is a pastor in the northern part of Tanzania., in a city called Arusha. We gave Pastor Timothy the extra balls and told him to use them for his ministry.
We boarded our plane, headed back to America and didn't give the soccer balls another thought.
Two years later we learned that Timothy had taken the soccer balls to the interior of Tanzania to the small village of Raranya that had no reliable water source, no electricity, no paved roads, no elementary schools, no medical access, no community center, but a population of approximately 5,000 people.
Using the soccer balls, Timothy created organized soccer teams. After the teams were created, Timothy met with the village elders. They expressed their concerns about the lack of clean water, medicine and schooling. Timothy made a promise on faith that he would help them. The soccer balls were being put to good use.
When we found out how a soccer ball had been the key to helping a community, we decided to start One Ball One Village. With funding from OBOV, we have helped the village of Raranya drill a new well, complete with solar-powered submersible pump and establish a community water station with clean, safe drinking water. Our support has also helped Pastor Timothy establish a new elementary school, community guest house and chuch.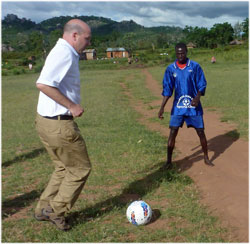 Jeff and Rob had the opportunity to visit Raranya in 2012. The first westerners to visit the village in over 20 years, they were both warmly received and also the entertainment of the village. When the two village teams decided to play a special game, Rob and Jeff decided to join in the fun. They provided a real show as the two middle-age white men were schooled by the village soccer team - fun had by all. (Although the westerners had to take a lot more Advil that night....)